Rummage Sale
Thursday, April 28 & Friday April 29-9:00am to 6:00pm
Saturday, April 30 (Bag day) – 9:00am to Noon
Donations accepted – Monday, April 25 thru Wednesday, April 27
Click
here
for more info.
9:00 am – non traditional service
10:00 am – Coffee Hour
11:00 am – Traditional Service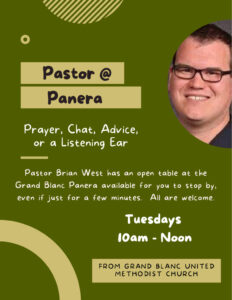 Current building protocols
– The CDC currently recommends masks for all persons regardless of vaccination status. We currently require mask for all unvaccinated persons including children.
– Click here for full details
office@grandblancumc.org | 810-694-9040
2017. Copyright. All Rights Reserved.