"Preparing the Way"
Beginning in 1958, my grandparents, Melvin and Jane West, began renting a summer cottage in Oak Bluffs, Massachusetts, a small town on Martha's Vineyard island. As school teachers, they'd take a majority of the summer to travel out there with my dad and uncle in the car's backseat. They'd spend days on the beach with friends, old and new. After two summers of doing this, my grandparents were
presented with the possibility of buying a cottage in the historical campground. With the help of some friends, they purchased a small cottage at 4 Forest Circle for $1,800. The cottage which is now nicknamed, "Reunion," was first built in the 1860's and maintains the essence of that initial design today. Nearly 100 years after this cottage began making memories for families before us, it has, for the last
62 years, been a place for retreat and reunion for the West family.
As you read this article, Stephanie, the kids and I are getting back from a 9 day visit to the Martha's Vineyard cottage and a reunion with my dad's side of our family. As I'm writing this, it occurs to me that my grandparents, their sons, their grandchildren, and now their great-grandchildren have all enjoyed this place, and will continue to for years – even generations.
I reflect on this, not to suffer you though someone else's vacation stories (who doesn't love that?), but to ask a meaningful question: are we always aware of the fact that our decisions and actions will have an impact on generations to come? That sounds more ominous that it is intended, but I suspect you get my point. Did my grandparents have any idea that their real estate purchase would become a special – even spiritual – place for our family? Did they know that we'd build memories with our kids there? Did they know that ashes of our beloved would become part of the ground on which the cottage sits? Did they know that other families would begin their own traditions on Martha's Vineyard be
cause of that
space? I suspect that they did know, and I suspect they'd be pleased to know it worked!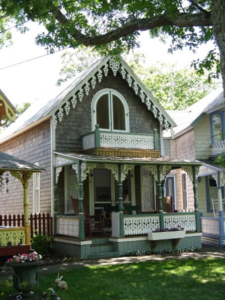 The decisions we make today, as well as the actions we take today as a church, are not only accomplishing ministry and mission in the here and now, but preparing the way for the church (the
Body of Christ) that will come after each of us. You see, ministry is rarely looking back at wh
at was (or what we perceive to have been), but rather looking forward. At times, it requires us to take a leap of
faith. At other times, it requires us to change. If we're willing to take steps to set the stage for the church to come, we are, in a very real way, preserving the faith.
Amen.
Pastor Brian